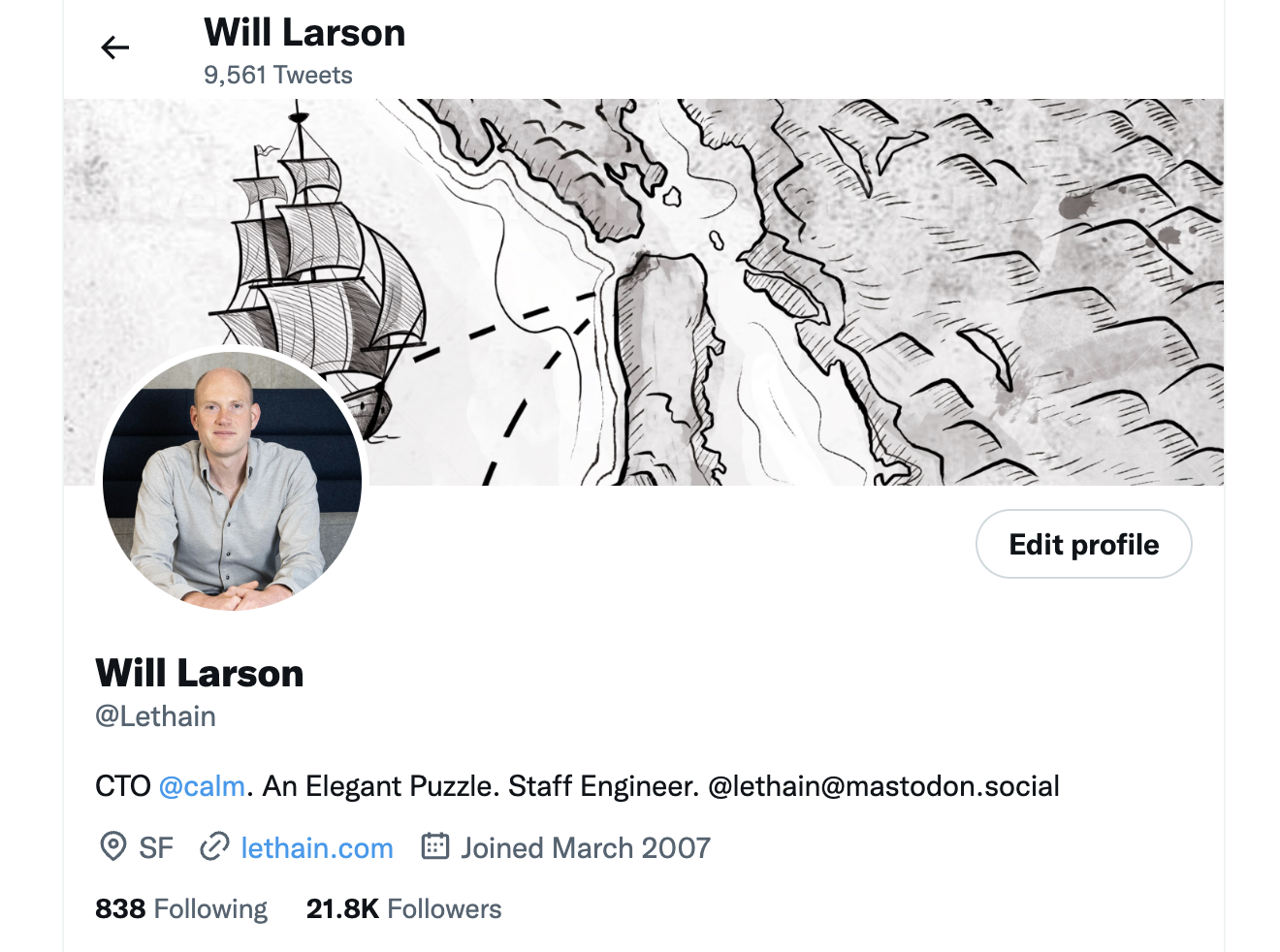 Twitter.
I joined Twitter in March, 2007. My first tweet was anything but glorious, "Sitting in Networking class. Not enjoying it." Ten tweets before receiving my first like. Another fifty before my second. Reading my early tweets, I was confused by this lack of likes. I slowly remembered: likes didn't exist. Instead there were favorites, bookmarks rather than algorithmic boosts. The absence of replies also felt odd. I was clearly having conversations with two college classmate (the only people I knew on Twitter)! Yesterday, one of those classmates reminded me, fifteen years after our first Twitter conversation, that replies also didn't exist at that point.
A month after joining, I tweeted out my first link to a file on the college's webserver. Neither that server nor my account still exist, and I have no memory to explain why I tweeted out my solution to that programming assignment. Two weeks after that, I tweeted out my first link to my old domain, willarson.com. In July, this website, lethain.com, first shows up. At the end of the year, I still hadn't interacted on Twitter with anyone outside of my two college classmates, and I'd collected roughly ten favorites.
Looking back, what strikes me is what a starkly empty place it was. There was little activity. No culture of liking to boost content in the algorithm. No quid pro quo boosting. It was hard to find people. It was hard to be found. I didn't share my Twitter handle with many friends or include it in any website. Tweeting was journaling, sometimes with friends nearby, but mostly with myself.
Two years later in March, 2009, most of my tweets had become discussions. Small discussions. Discussions with friends. Discussions with context. They happened with coworkers and folks I met writing about projects in Django. It was lively, but it was local to my pocket of the internet. I'd never heard of the concept of a viral tweet.
Towards the end of 2009, while working at Yahoo! as an entry-level software engineer, a friend at work warned me that I shouldn't express concerns about work on Twitter. I'm honestly not sure what I tweeted that inspired his warning; I didn't look for the offending tweet then, and I'm not going to look for it now. In the 2022 era of social media, this might feel quaint, but in 2009, with the United States economy reeling from the 2008 housing crisis, I really wanted to keep my job, and there was certainly no default assumption that it was my right to complain. I was an entry-level software engineer, with at most a couple hundred followers, but my tweets suddenly mattered enough to someone. From that point forward I inspected each new tweet for potential signs of disloyalty to my job before posting it. Internalizing this warning was my first step towards a more curated Twitter existance.
By 2016, nine years after I started using Twitter, I was still getting zero to four likes for most stuff. I had one tweet, sharing a blog post, get 51 likes that year, which was by far by most successful tweet up to that point. That tweet and blog post combo was the precursor to my next six years on Twitter. I refined that combination over the following year, gelling into the pieces you see in this late 2017 tweet summarizing a post I'd written about engineering management.
My pattern became: write a blog post about engineering leadership or software engineering, decompose it into a tweet storm, publish the tweet storm, and then start writing another blog post. It worked. From 2,200 in 2017, followers grew to 3,600 in 2018, 8,000 in 2019, 11,600 in 2020, and to 22,000 today in late 2022. (Omitting the 2021 number because I'm not quite sure what it was, but I think roughly 16,000.) In this new world, a low engagement tweet might get twenty likes, and a high engagement tweet would get hundreds. Social media became the leading distribution funnel for my writing, then An Elegant Puzzle, and later Staff Engineer.
As my audience grew, and as I entered more senior roles in my career, the steady, well-intentioned eyes of colleagues combined with the fleeting, infinite eyes of wider community to form a panopticon. Authenticity abhors a spotlight, and my participation online became more and more rehearsed, practiced, and composed. This change was partially informed by my personal experience. It was most guided by witnessing what happened to others. I saw good companies fire reasonable friends over their reasonable tweets. I saw investors email their portfolio companies enraged by an employee's blog post, demanding they be fired. I saw a friend experience a decade of deliberate, anonymous smear attacks at every new job after offending a powerful figure with their irreverent deployment of 280 characters.
Although it's been a long time since I've "brought my whole self" to social media, my career and my writing has been deeply shaped by Twitter and the many communities that grew within its Pandora's box. I'm grateful to the many people who have built and operated the product, and even more so to each person who joined in community with me over the past fifteen years.
Switching from gratitude to hope, what I am most hopeful for is that we continue exploring for new ways to connect. The promise of early social media was community and discussion. A new vehicle for the communities lost to suburbs and cars. However, the fixation on reach and engagement has turned modern social media into a distribution channel, and distribution is always at odds with authentic community. It's easy to find social networks struggling with these downsides of engagement: most obviously Twitter, Instagram, LinkedIn, and Facebook. This is also why I don't see Substack or personal mailing lists as a replacement for Twitter: these are explicitly distribution channels.
Of the proposed inheritors to Twitter that haven't been warped into distribution channels, most struggle with a second, existential issue: communities survive through the new members that join them, and it must be possible to organically acquire new members to members replace those that drift away. There's a robust ecosystem of private discussion groups in WhatsApp, Signal, Telegram, Slack and Discord, but few if any of these groups have found an elegant solution for acquiring new, additive users.
Very few communal patterns avoid both the engagement trap and enable community growth. The most successful pattern that I'm aware of is the venerable self-hosted forum, along with Reddit, and even Google Groups, which borrow heavily from the patterns of self-hosted forums. These in turn suffer from a third problem: funding comes from advertising, donation, or the administrators' largess. None of which are easy to maintain indefinitely.
It's easy to feel jaded about the internet, but 2022 is truly the early days of what the internet will become, and while we don't have the right pieces yet, I'm very optimimstic in what we'll create.