Slack and Hope for Middle Management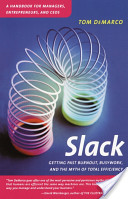 My first year managing a development team, I chronically ignored the team, had my entire team leave, and argued with them all of the time. When their performance feedback came in, it was staggering: no one said I was doing a good job, but several said I was the best manager they'd had.
Such is the state of middle management in Silicon Valley.
When I picked up Tom DeMarco's Slack, I wasn't looking for a theory on middle management's purpose–I grabbed it on the strength DeMarco's previous work on Peopleware–but like the of best books, I found more than I expected.
DeMarco shares a vision of middle management as the layer where organizations learn and remember. They are close enough to understand how the development teams actually work, and near enough to understand the leadership team's vision of the company and strategic direction.
I haven't participated in a company which could say what their middle management was for–watching Yahoo! rot from the inside, I certainly believed that the quality of our middle management was a primary problem–but I'd definitely say that framing them as an innovation center returns a sense of nobility which the profession has been largely stripped of: more than an interface to a crippling and crippled bureaucracy, we can be helpful too.
For the middle manager, this is certainly a rewarding thought, but it begs some evaluation: are the shmucks in the middle really what allow companies to change for the better?
I'm starting to believe it's true, if you can
tame the feeling of importance that comes from Rand's external busyness, and vanquish the crippling self-doubt of the American who isn't too busy to think,

garner enough organizational influence to easily experiment with your team's processes.
Said another way, as long as your organization supports you and you can manage to stop sabotaging yourself for a bit. (Having a foot in architecture and implementation helps too, as architecting organizations seems to always go hand-in-hand with architecting systems and programs.)
Give Slack a read, and drop me a mail if you're having success leading from the middle: I want to steal the secrets of your success.