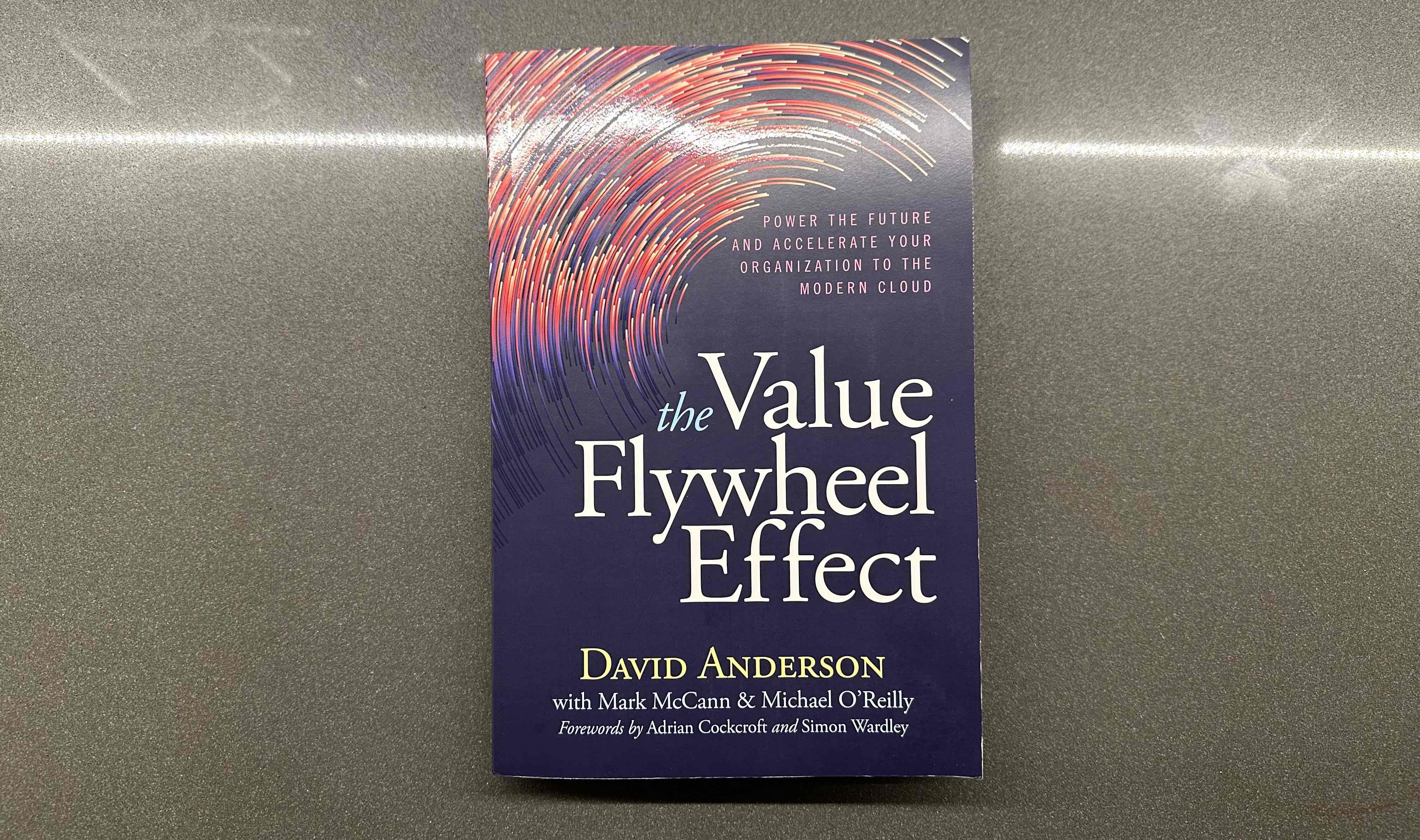 Notes on The Value Flywheel Effect
The Value Flywheel Effect is a worthwhile read. It's imperfect, but a fascinating look into real-world application of Wardley mapping, and a rare view of a company's engineering strategy.
---
I'm currently diving into the topic of engineering strategy, and a sub-topic that I've not previously spent much time on is Wardley maps. As I dug into it a bit more, The Value Flywheel Effect by Anderson, McCann, and O'Reilly was recommended as a primer, so I bought a copy and spend some time working through it.
First and foremost, I think this is a very interesting book and worth reading if you're trying to build a holistic point of view on engineering strategy. I think it's best consumed as the authors' explanation of Liberty Mutual's engineering strategy, which is quite valuable–too few companies are willing to describe their strategies in any detail.
There's also quite a bit else in this book:
a comprehensive introduction to Wardley mapping
the authors' concept of "The Value Flywheel", which is a flywheel with four phases

Phase 1: Clarity of Purpose
Phase 2: Challenge & Landscape
Phase 3: Next Best Action
Phase 4: Long-Term Value

a great deal of serverless evangelism
four case studies of adopting serverless and some elements of The Value Flywheel
This is, from my perspective, where the book runs into a bit of trouble: it tries to do a bit too much, and some of the goals don't fit together cleanly. For example, you might have taken the book's content and written three related but distinct books:
An introduction to Wardley mapping – I found this valuable, and would have found it even more valuable if I hadn't spend some time over the past few weeks using other resources to learn about Wardley mapping
A explanation and case studies of The Value Flywheel (of both Liberty Mutual itself and the others) – these are obviously sanitized, but I always find companies self-descriptions of their engineering strategies fascinating, even if you have to read between the lines a bit
A pitch for serverless – more on this later
The interweaving of all three felt like a stretch at time.
That said, I think the right way to read industry material is to extract the interesting, and there's a lot of interesting to extract here: a deep, ongoing practice of Wardley mapping, an exploration of companies adopting serverless successfully.
The case studies in particular are interesting, as I still rarely see serverless used in scaled applications. There does appear to be a sweet spot for companies who are migrating some older patterns to serverless–e.g. technologists working hard to explain the value of technology within companies that depend on technology but rarely think of themselves as "technology companies. There's potentially a bit less obvious value for companies who are already running continuous deployment with containers on a well-maintained Kubernetes cluster or some other sort of Platform-as-a-service.