Introduction to Kamioka-cho, Hida-shi, Gifu-ken, Japan
I have been living in Kamioka-cho, Hida-shi, Gifu-ken, Japan for a bit over five months now. I use a lot of words like rural and mountainous to describe it, but I've never sat down and really attempted to paint a clear picture of the town. Lets see what kind of resolution a few photos and a couple hundred words can achieve.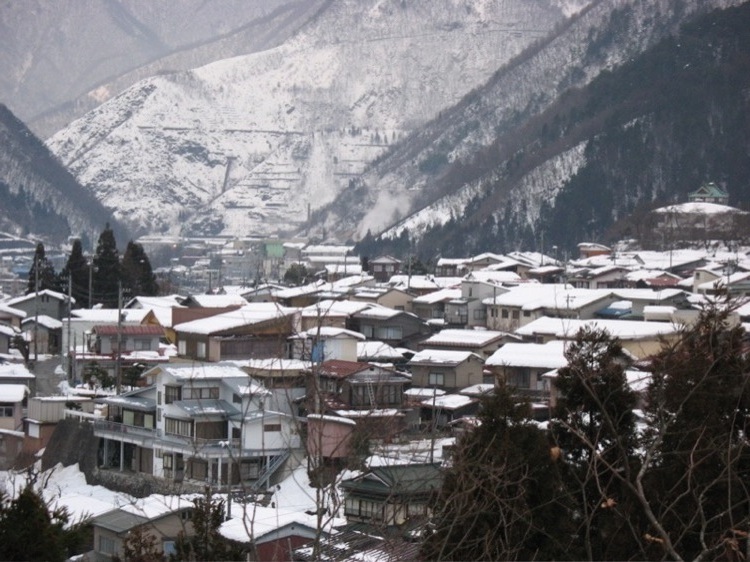 Kamioka is in the Japanese Alps, and receives an average of three meters of snow each year. It gets cold, but its not the bitter cold that you might expect. It rarely gets below -10 degree Celsius. This means that even though there is a lot of snow, it does melt over time. At least in some places.
The real problem with the cold is that it is equally cold inside as out. The nihonjinron response is that architecture styles here focus entirely on the unusually hot and humid Japanese summers, and thus they are poorly prepared for winter. The reality is that the homes are simply not insulated well, and thus they are hot in the summer and cold in the winter. Its a waste of energy as well, since all the escaping heat (or invading heat, depending on the season) has to be replaced.
As a result of poor insulation, there is no central heating in most the majority of buildings (buildings being bought today are increasingly likely to have insulation and central heating, but they are still a rare luxury). Instead, the heating strategy of choice is to heat single room, often with a kerosene heater.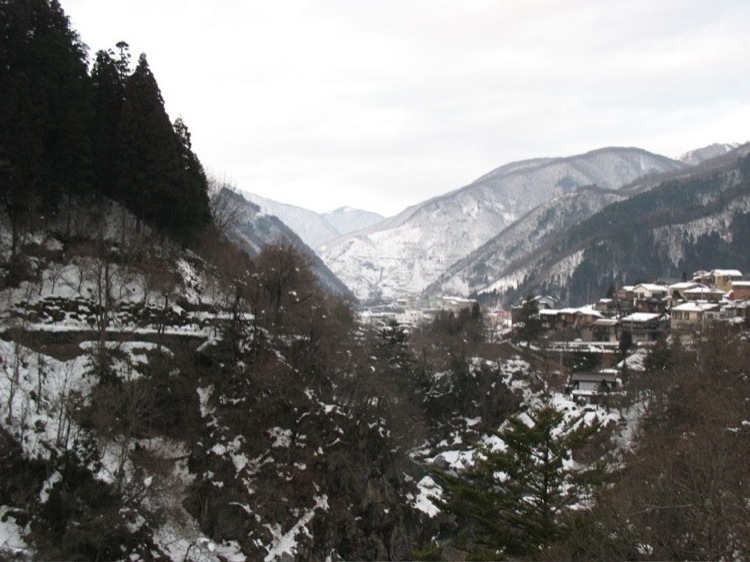 Another aspect of being in the Japanese Alps, Kamioka is built in a small valley surrounded by jutting mountains. Its beautiful, and there are numerous skiing slopes in the region. Including one that is a ten minute drive from my apartment.
In the summer there is some exceptional hiking available in the region as well.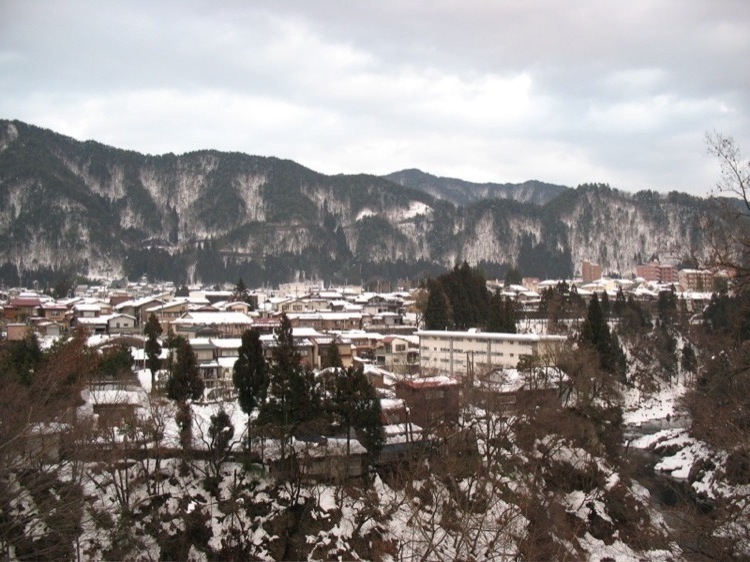 Kamioka has a population of about 12,000. At its peak, approximately thirty years ago, it had a population of 35,000 and was the largest city in the immediate region. Unfortunately, that size was based on zinc and coal mines, and the town's population depleted soon after the mines did.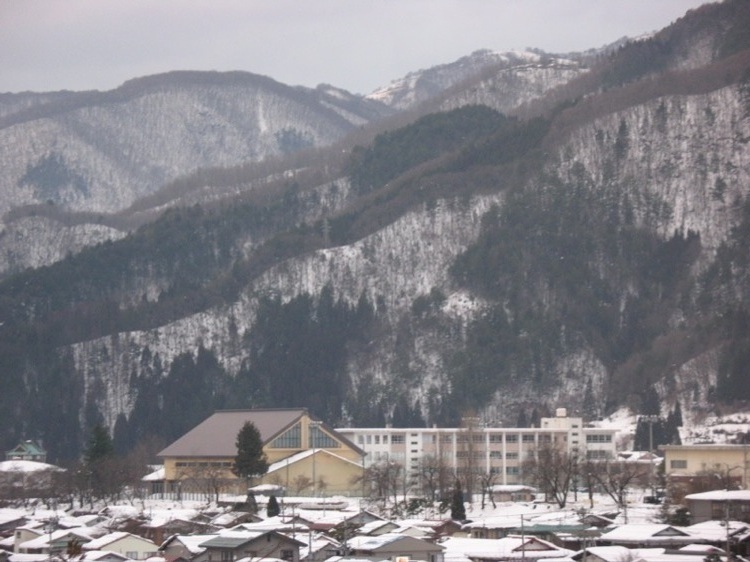 For getting around, to, and from Kamioka there is only one adequate solution: driving your own car. This last year the train station in Kamioka closed down, but even before that it was a private station and ran very few trains. There is a bus system as well, but the number of busses running is not terribly high.
Walking is a decent way to get around before the snow starts, but biking usually involves putting your life in the hands of the local motorists.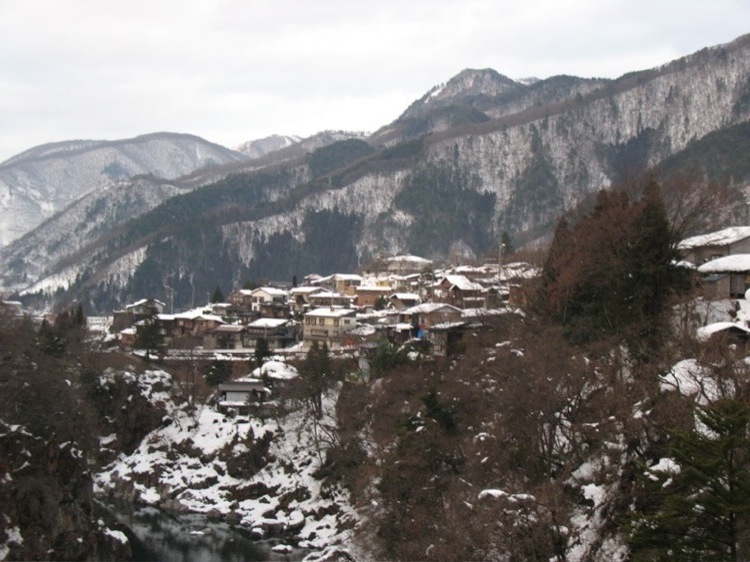 If you do have a car, then Kamioka is located next to two larger cities.
The first of those is Takayama, and is fairly famous around Japan (at least with people over thirty). Its about forty minutes away by car, and has a much larger population of foreigners than you'll find in Kamioka. There are even a couple of bars that are geared toward serving foreigners. And an excellent hamburger restaurant that serves hamburgers with a fried egg on top. Delicious.
The other nearby city is Toyama, which is the capital of the Toyama prefecture. As far as I can tell it is a large soulless city with a large shopping mall (named Favore), and excellent sushi. It is about fifty minutes away by car.
Kamioka is technically part of Hida city, which is a legal (and only legal) entity formed by combining Kamioka and three other towns together. The largest part of Hida city is named Furukawa. Furukawa has the closest train station, and a good selection of busses as well. There is a smaller shopping mall named Apita there as well, which has a fairly wide selection. About thirty minutes away.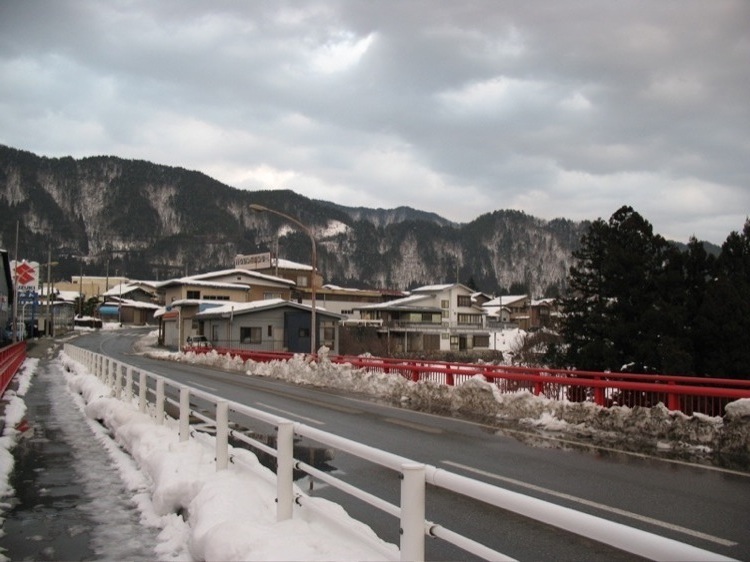 Kamioka itself has everything you need to survive, but not necessarily everything you want. There are two grocery stores here (Valor is the name of the larger one), and they have a decent selection, but are far smaller than the big-box grocery stores that have come to dominate in America. Valor closes at 8 PM, which can be an important piece of information to remember.
Other than Valor, the most important store in Kamioka is Komeri, which is a general home and hardware store. Its like a small Lowes. Sometimes it even has what you are looking for.
Kamioka has a number of bars, the best of which is named El Sol. Its a good place. Unfortunately the standard price for a draft beer is $6 USD. Thats pretty much the same price you'll find anywhere in Japan. All I can really say about that is its confusing and I don't understand.
There are a few restaurants as well. A chinese restaurant named Sairyu is often volunteered as the best in town (I think, mostly, because no one really knows any other restaurants here). My personal favorite is a small family run restaurant named Teiju. Highly recommended. A word of warning though, they are closed for dinner Friday through Sunday, and its a family restaurant so they are often closed unexpectedly... but so is everything else.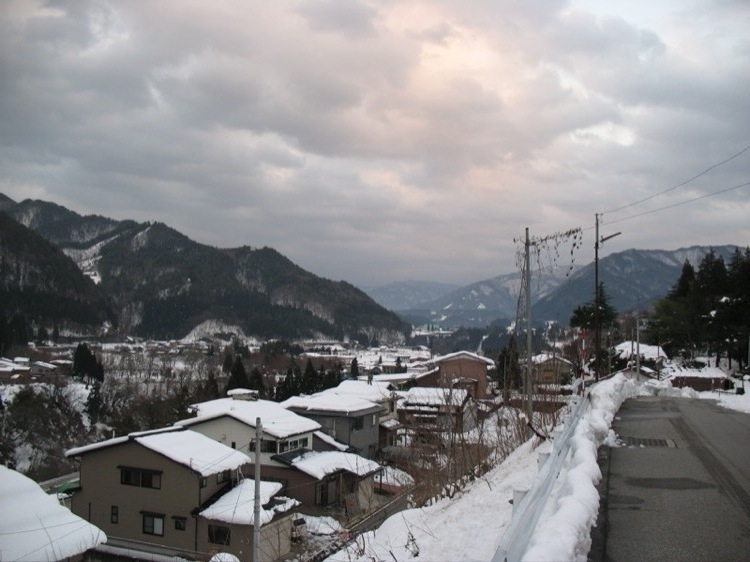 There are a number of foreigners in town, but they almost exclusively work at the Super-Kamiokande (a physics research facility in an old zinc mine). I haven't had much interaction with them, and it just didn't really work out well, but I'm sure they're great people. The only foreigner I have much contact with is the other Assistant Language Teacher in town, who works at the high school.
---
The executive summary is: Kamioka is a town where you can live, without dying, for a while anyway, without hating it too much, unless you like big cities, then you may be angry.
I'll see if I can get that on next years tourism brochures.