Experimenting with content and distribution.
I've been writing on this blog for over a decade, all the way back to my very first post on April 7th, 2007, about Finding Our Programming Flow. Not that you should read that, you really shouldn't, most of my early writing was terrible. No comment on more recent stuff.
My approach has gotten pretty scale over the past five years or so, and I wanted to experiment more this year, both in terms of pushing my own writing style and also in terms of getting broader distribution for what I write.
Towards that end, I set some goals for myself: write at least one post each month, grow my Twitter followers from 2,005 to 5,000, get advice on writing from smart folks and actually take their advice instead of being defensive, and, finally, don't be afraid to run distribution experiments even if they are a little sketchy (cross-posting to Medium) or weird (cross-posting to LinkedIn).
How is that all going?
Getting edited
By far the most rewarding thing so far this year has been getting edited by literally dozens of amazing folks. Some of them have been coworkers I get to work with at Stripe, others are personal friends, and a surprising number have been folks I didn't know at all but reached out over Twitter to help. It's been especially humbling and amazing to have strangers be so helpful, and I hope as I return the favors that some of these will develop into long-lasting relationships.
I'm still learning a lot from each post that gets edited, but a few of the things I've been thinking about most:
I like to make unsubstantiated side comments, which make me feel smart but don't add anything, distract the reader, and make posts even longer.
I should try to write shorter, less ambitious, pieces.
I tend to go into third person to sounds authoritative, but then folks lose my voice and find it less engaging. Stay in the first person.
I need to contextualize why I'm talking/learning/writing about something. People want to know why something matters, and I shouldn't assume folks will care just because I've written about it.
I'm sure I'll learn a lot more over the rest of the year.
Distribution
A long time ago I used to get a lot more traffic, and then I uninstalled Google Analytics which let me remain blissfully ignorant of my traffic's long demise, but in my last blog rewrite I reinstalled GA, and my traffic is pretty low.

Over the past month I've had about 20,000 pageviews. For new content, it's exclusively from Twitter and LinkedIn, and for older content it's from Google search or direct links.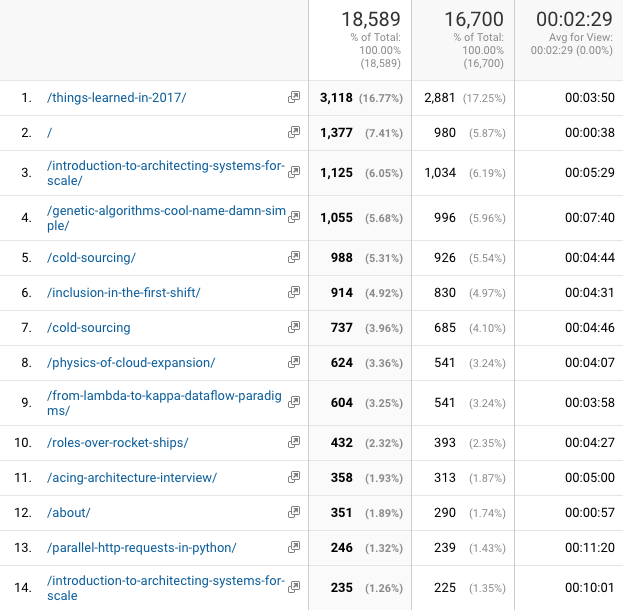 This makes it clear I should get more serious about redirecting to a consistent stance on the trailing slash. I have the canonical tag set, but I guess GA doesn't care about that much. A lot of what is getting traffic is new stuff I wrote over the past month, but also a lot is stuff I've written years ago.
I think that's pretty cool.

I've been pretty focused on Twitter as a primary distribution medium, and it's going fairly well! My tweet storm on stuff I learned last year is still by far my biggest "event", driving something like 500 followers (15% of 2018 goal!), and since then I've gained about 270 followers over seven posts. That's not super reassuring, as that implies about 38 new followers per post, which would require writing about 58 more posts this year to hit my 5,000 goal, which just ain't gonna happen.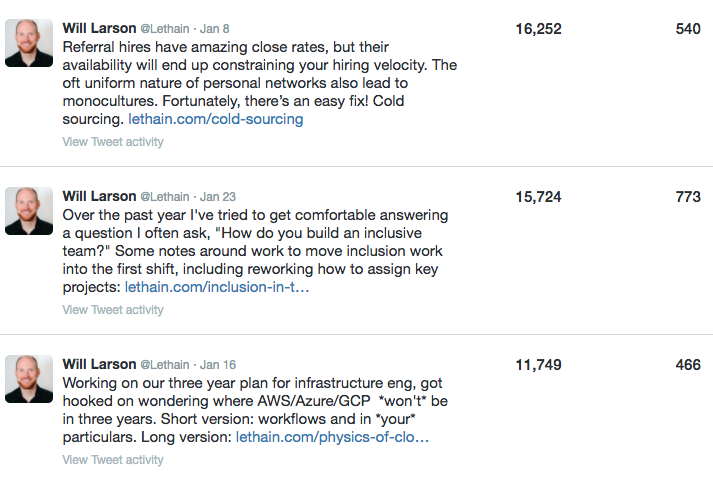 My top tweets in last 28 days (tweet storm has aged out) were all new pieces of content that I wrote and got a bunch of editing help with. I'm a little disappointed with The physics of Cloud expansion not getting more traction, because I think it's actually pretty good and took the longest to write and edit, but I can't be too sour about it given that's more engagement that I got on anything else I wrote in the last three or four years.

Overall, I've been really impressed by Twitter's reach! I've also been experimenting with LinkedIn, and I think it's worked out pretty ok. Cold sourcing: hire someone you don't know did pretty well, which I thought it might given it's a pretty reasonable fit for the LinkedIn audience.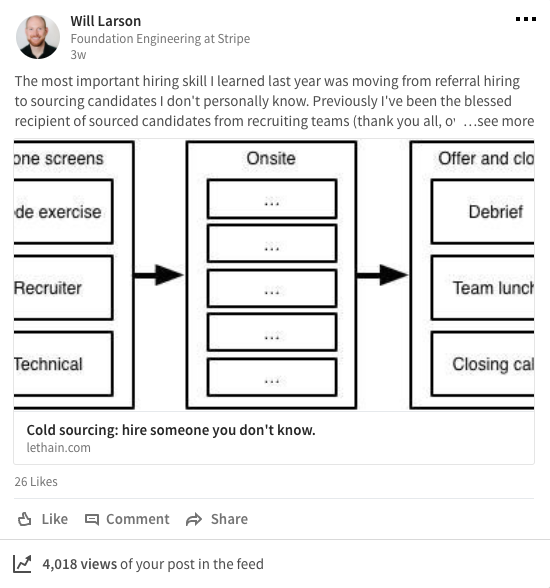 So far only my post around stuff I learned last year went "viral" on LinkedIn, which I think means "expanded beyond my first-degree network", and that got a good bit more reach, although nothing too rediculous.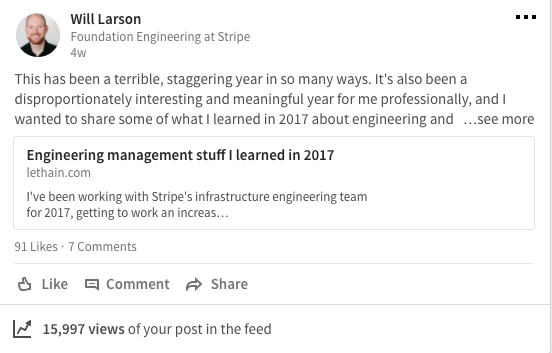 The LinkedIn stuff has been a particularly interesting and easy experiment to run given I've been doing a bunch of cold sourcing for the last year, and have more LinkedIn connections than Twitter followers.
Next experiments
In theme of doing a bunch of experiments, there are two that I'm particularly interested in, admittedly of pretty similar shapes. I'd like to try reposting content to Medium and as a LinkedIn article and see how it goes. I'll probably try reposting some of the stuff I wrote in January onto Medium and see how that goes, and then pick a piece of two to publish on LinkedIn as articles instead of just mentioning them in a post.
Not sure if either will work well, but should be an interesting experiment. Curious if you, dear reader, have alternative suggestions for distribution!
I've sort of given up on social news sites (Reddit, Hackernews, etc), mostly because it seems like you need voting chains to get stuff to place, and I've not wanted to get into that mess. I used to have some folks who subscribed to my RSS feed and organically did the voting chain dance on my behalf, which was pretty great. I don't think I've had a single piece perform well on social news in literally years.