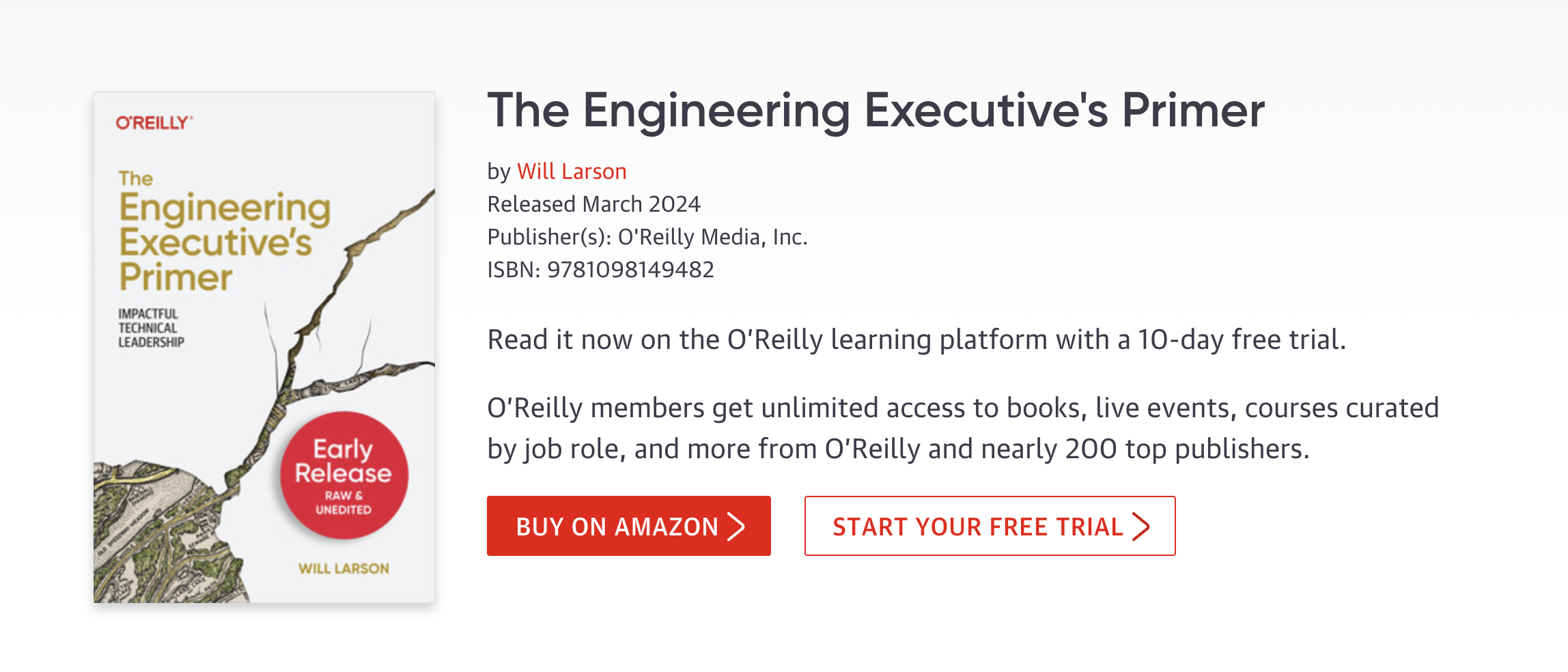 Drafted Eng Executive's Primer!
Back in late April, I mentioned that I was working on a new book, The Engineering Executive's Primer, with O'Reilly. I wanted to share a few notes on progress!
First, there's a cover, shown above in this post's image, and also in the right rail (or bottom footer if you're reading on a smaller device). I'm quite excited about the cover, which is simple and imperfect. There is nothing pure about being an executive; it's mostly about balancing opposing forces to the best of your ability, and I think the cover captures some of that. The map underneath the cracks is an early map of San Francisco's Golden Gate Park (if you want further proof, try searching for "Stow Lake" whose label you can see peeking through in the crack on the right side).
Second, I've done a lot of writing. I've been sharing early chapters with the "executive" tag, which now has 28 posts, all except one of which are from this year. Every one of those is an idea that I intended for the book. Some will be in the book exactly as is (well, almost exactly, they all still need some editing), others have been trimmed down to asides to include within other chapters, and just a couple of them didn't end up fitting (e.g. the post on creating executive LinkedIn profiles was top of mind for me as I was reworking mine for the job search that helped me connect with Carta, but there's no advice I can write about any tool that's truly evergreen advice–tools change too often).
At this point, I am nominally done writing, although what I really mean is that I've finished the first draft. There's still quite a bit of editing, including incorporating feedback from an amazing group of tech reviewers (ty Jasmine, Julia, Kevin, Tanya, Uma, and Virginia), which I hope to finish over the course of September.
From there, there's copy editing, perparing the book for printing, actually printing the book, and so on, but most of that won't require much direct involvement from me. That means, we should be on track for the digital version being complete by the end of this year, and the physical release by June, 2024.
This is my third book, and I'd say that I have a pretty clear sense of how to write this sort of book, so it hasn't been a particularly tortured experience pulling it together. It certainly helped that I had a couple months winding down at Calm before starting at Carta, which gave some space to focus on outlining and writing the book. I'm pretty sure I couldn't have written this while ramping up at a new job if so much of it hadn't already been pulled together. In particular, the chapters that I think are exceptionally good were all written by the time I started, including Writing an engineering strategy, which I hope will be the enduring piece from this book. (Perhaps that's wishful thinking, as it's a topic I've been trying to land for a long time now.)
Alright, now I'm off to edit, prepare for a talk on engineering strategy at QCon San Francisco in October, and continue my work at Carta.