Previously: 2020, 2019, 2018, 2017
It's always tricky to figure out the right tone for an annual wrapup post. This has been one of the best years of my life. Our son is now firmly a toddler. I released Staff Engineer and it's sold about 20,000 copies. I learned a tremendous amount supporting the engineering and data science teams at Calm. My weekly basketball game resumed after a 15 month hiatus. A secondary transaction at a previous company meaningfully changed my life financially. I angel invested for the first, second, and third times. There's a version of this post that stops there–what an amazing year!
A more honest version goes further. It's been a challenging year. While I've been fortunate to fully recover, I experienced a stroke and even a fast recovery feels slow while you're inside it. Pandemic parenting is hard. I haven't gotten to see my east coast family in person for over two years. How to balance out those threads to judge the year? Who knows! It was pretty good.
Goals
Back in 2019, I set goals for the decade rather than annual goals. This is a decision that I continue to appreciate, as the shape of each year is rather hard to predict ahead of time. Checking on those goals a bit:
Do more learning experiments each year. Try new technologies, software, etc. My biggest learning experiments this year were self-publishing Staff Engineer and dipping my toes into angel investing for the first time.
Write roughly one new talk each year, and present it somewhere. For each talk, identify some aspect of speaking that I want to improve on, and focus on improving in that area. I've decided to drop this goal going forward. At this point I've done enough conference speaking to know that it isn't something I love doing. I may well do more of it, but I won't be thinking of it as a goal.
Write at least four good blog posts each year. Hmm, I'd honestly grade this as a miss. My implied definition of "good" is actually "industry moving" and I don't think any of my blogging this year met that threshold, even though I think some of it was good.
3-5 folks who I've managed or "mentored" move into VPE or CTO roles at 100+ or $1B+ companies. This goal turns out to be a lot fuzzier than I intended, but I think a reasonable answer here is "two." (Why? Folks tend to label mentorship in a self-serving way, "I mentor lots of people", and I've managed quite a few folks as a "safe pair of hands" during company reorgs but I don't think I impacted their careers in any meaningful way.) If valuations continue to accelerate, this is probably an overly conservative goal.
Become an official advisor for 1-3 startups. No direct movement here, although the angel investing experience feels like indirect progress.
Invest money in 3-5 startups. This year I did complete this goal, investing in three startups and one fund as an LP. I plan to continue doing a small amount of angel investing guided by my investment policy statement.
Become a board member of a small company, startup or non-profit. No movement.
Write a book about infrastructure engineering. No movement.
Write another book about engineering or engineering management. Completed! Staff Engineer is published.
Start a small but real business that I can run with a small amount of ongoing time investment. Some folks would consider self-publishing Staff Engineer a business that is selling an info product, but that's not really the intent I had when writing this goal, so I rate this as no movement.
Overall, I remain pretty happy with these goals and my progress against them, particularly given what a messy year it was for society at large and also me personally. At some point, I do plan to refresh the goals a bit, maybe at the end of next year.
Staff Engineer
Sales figures pulled on on 11/20. Amazon numbers are through October, 2022.
Sales figures by channel for Staff Engineer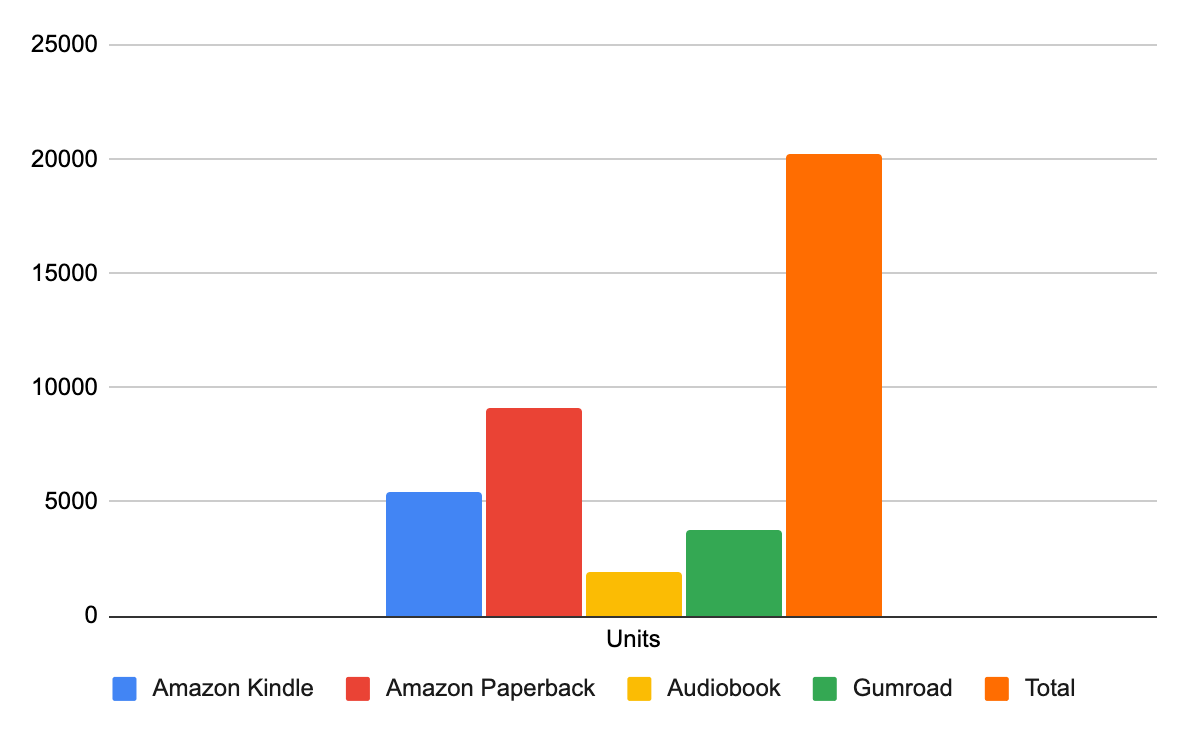 Staff Engineer was my big project for the year, although much of the work happened in 2020 and I haven't worked on it much since July. I'm very excited to see the project continuing to evolve thanks to David and Alex's work on the StaffEng podcast, as well as recent story submissions like Rebecca Panja's.
Sales have been good, totalling 20,268 units sold when I pulled these numbers. The breakdown across channels is 5,394 on Amazon Kindle, 9,110 on Amazon paperback, 3,806 on Gumroad, and 1,958 on Audible audiobooks. In aggregate this is roughly $200k USD in sales. Of those proceeds, I've donated $100k thus far and will donate the remainder after getting final numbers for the year to determine appropriate tax withholdings.
The thing that has excited me the most is folks who've reached out to share the book's impact on their career. This was an example of an important lesson I've learned over the years: we can change our industry by impacting individual lives.
While Staff Engineer is a nice book, the best possible outcome is that it helps financially validate this topic for other authors and publishers, which is why I'm quite excited to see Tanya Reilly's The Staff Engineer's Path coming next year and hope to see even more beyond that.
An Elegant Puzzle
Sales figures current through Q3, 2022.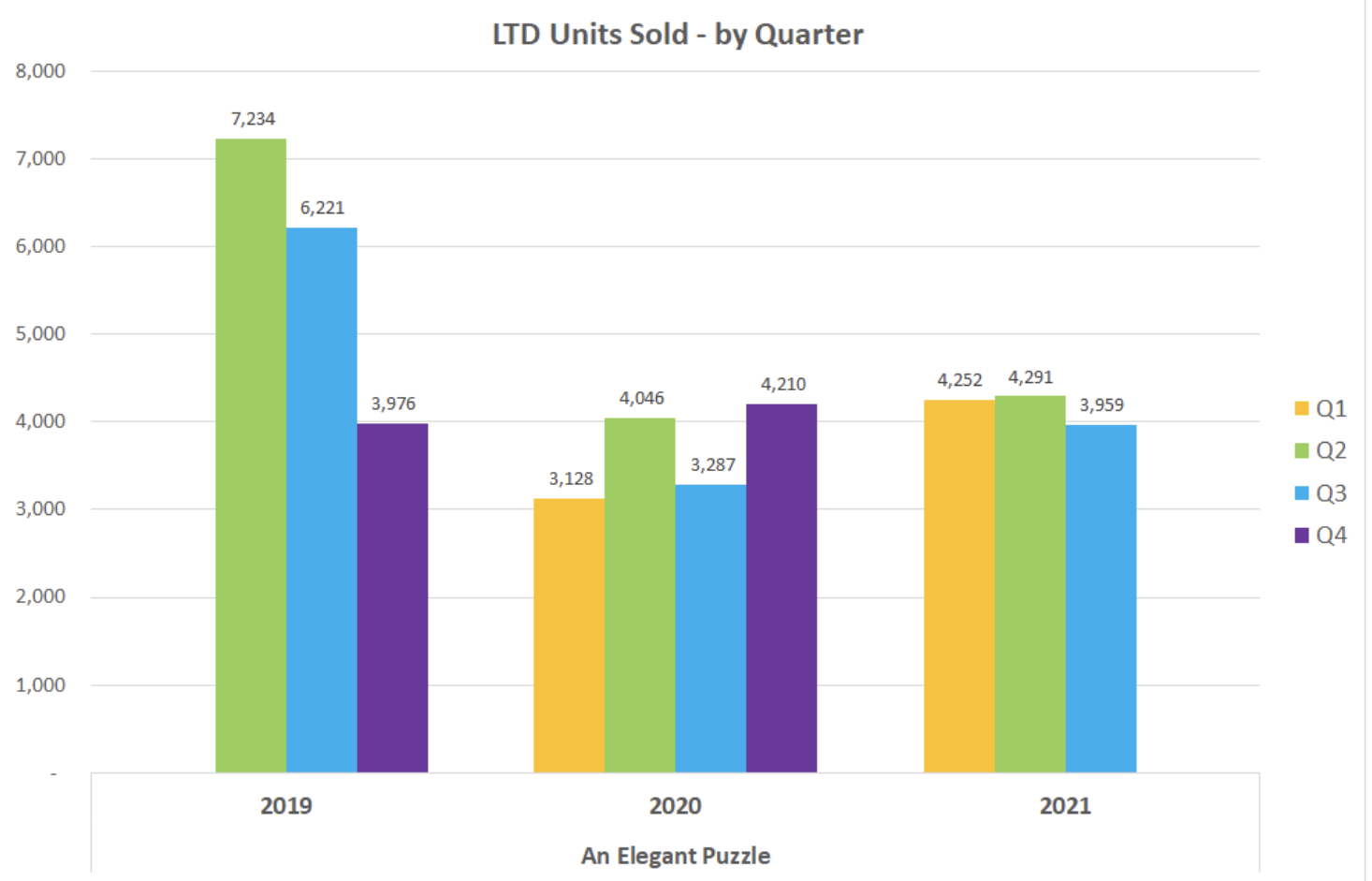 An Elegant Puzzle was published in 2019, and this year it kept humming along. Presumably the publication of Staff Engineer boosted sales here a bit, although I don't have any clear proof. I don't have Q4 numbers yet, but it passed 44,000 copies sold in Q3. An even more exciting milestone is that its second printing is happening. We launched with 27,000 hardcover copies and that was expected to cover the book's lifetime, so this is pretty neat.
Although I can't take any credit, Stripe Press also launched new book pages, which look rather nice.
Irrational Exuberance
Google Analytics metrics pulled in early November for trailing 12 months.

I wrote 25 blog posts in 2021. Some of my favorite posts this year were: How to safely think in systems, Measures of engineering impact, How to be a tech influencer, and Learning about personal finances. Compared to last year's eighty posts, it was a low volume year. The lower volume was primarily due to launching Staff Engineer and resting afterwards.
Except for How to safely think in systems (16k views), my best performing content is stuff from earlier years. This is expected, although a bit intimidating when contemplating the value of additional writing. Mailing list traffic isn't considered here, but even more importantly content performance fits the typical a-few-hits-plus-long-tail curve distribution. It really does highlight how difficult it is for content to crack into long-term relevance, with even Migrations slipping towards obscurity a bit (16th best).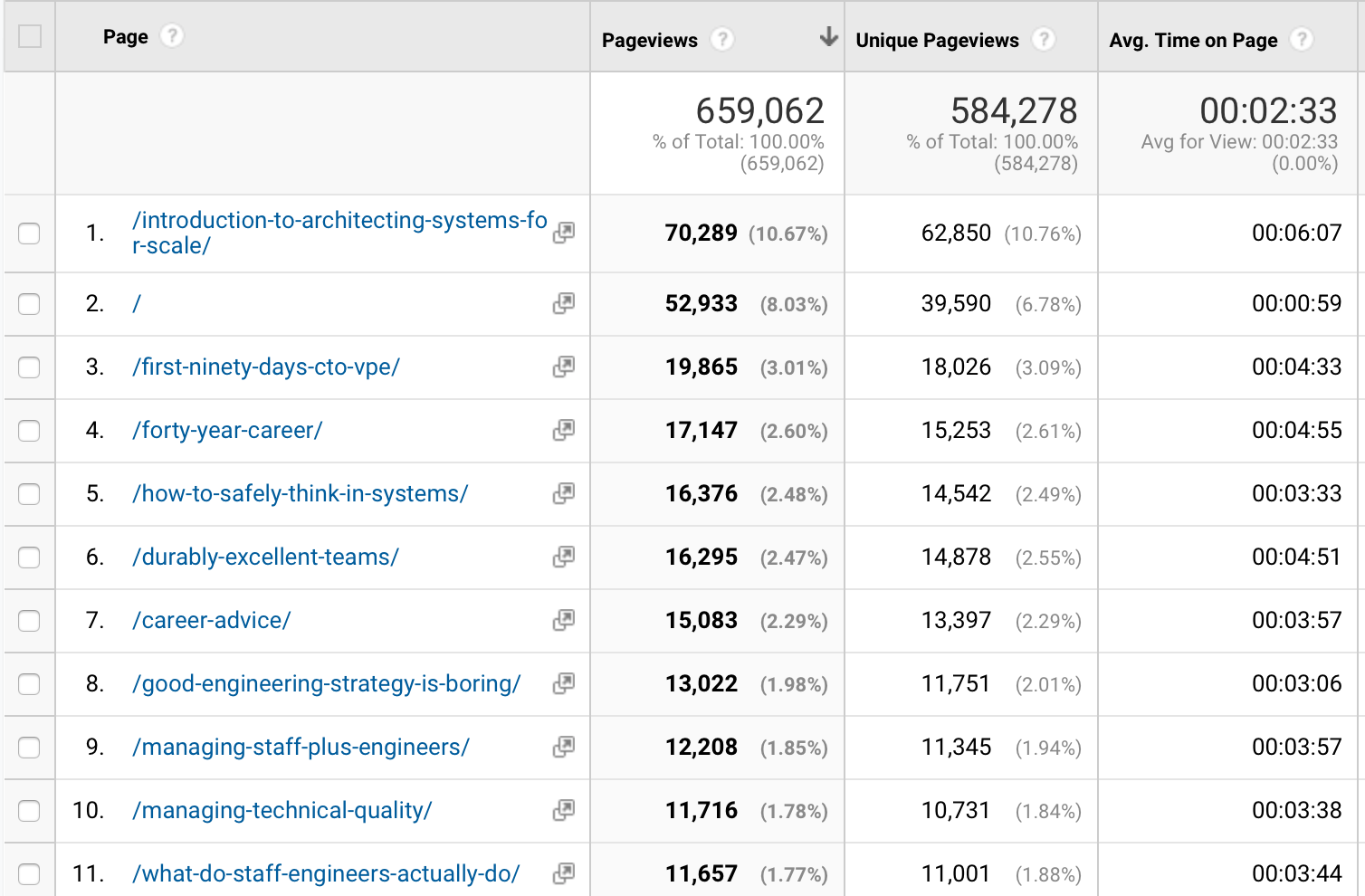 The blog also migrated from a complex setup I put together to learn about GCP and Kubernetes in 2018 to a static website built using Hugo. It's much simpler, no longer has moving parts to maintain (looking at you, Let's Encrypt), and is free rather than $100/month. Huge improvement to not be fiddling with all the underlying pieces.
CTO & VPE Learning Circle
The CTO/VPE Learning circle that I put together in early 2020 is continuing to go well, and I've moved from running it to co-running it with Uma Chingunde who leads the engineering team at Render. We've been good at organically finding folks to bring into the group to keep participation steady even as some folks get busy and drop out. This takes little ongoing preparation and is a delightful two hours of my month. I've also met a lot of really capable folks that I simply wouldn't have met otherwise.
TechWriters
In 2020, I partnered with Gergely Orosz to launch TechWriters. TechWriters followed the Rands Leadership Slack model, but instead focusing on engineering leadership looking for folks creating technical content online. I really enjoyed this community but ultimately I did decide to withdraw earlier this year. Community moderation requires an ongoing and unpredictable energy outlay that I wasn't able to maintain at that point.
Angel Investing
There's so much image management in Silicon Valley that it can be hard to tell what's real. I've found that particularly true for angel investing. Is this a useful way to spend time? Can you influence the industry's evolution through intentional angel investment? Is it fun?
Trying to answer those questions, my wife and I invested small amounts in three companies and into one fund over the past year. We thought through what appropriate financial thresholds are for our angel investing, which we memorialized in our investment policy statement. Our baseline assumption is that everything we angel invest will go to zero. We'll keep doing a small amount of angel investing as long as we keep learning from it, and will stop if the learning slows.
---
That's my annual year in review for 2021. If you're writing one, please send it my way! Love to hear what folks are working on and thinking about over the course of years.